Eat for Good Swaps
10 recipes from around the world that help restore our Earth. A collaboration between Future 50 Foods and the Chefs' Manifesto on the occasion of Earth Day 2021.
The Chefs' Manifesto
is a chef-led network bringing together 1000+ chefs from 80+ countries to explore how they can help deliver a sustainable food system.

With one in three people
malnourished globally and a food production system damaging the planet, chefs, farmers, policymakers and world leaders need to work together to deliver a sustainable, nutritious and delicious food future.
As chefs bridge the gap
between farm and fork, the Chefs' Manifesto empowers chefs with a framework tied to the SDGs and consisting of simple, practical actions.
SWAP - Eat For Good!
The Chefs' Manifesto and Future 50 Foods
have come together this Earth Day to help restore the world by changing what's on our plate. The focus is on restoring our Earth, to prevent further environmental destruction and climatic disasters.
The Earth Day movement focuses on practical actions around climate action, science, education, people and communities, conservation and plastic and pollution. Food intersects with all of these actions.
By making simple
ingredient swaps to Knorr and WWF's Future 50 Foods and by eating diverse foods you can help lower the
environmental impact
on the planet as well as boosting the nutritional value of what's on your plate. In this storybook, ten chefs from the network share which ingredients they decided to swap to a Future 50 Food in a series of delicious, healthy and sustainable recipes that are good for people & planet!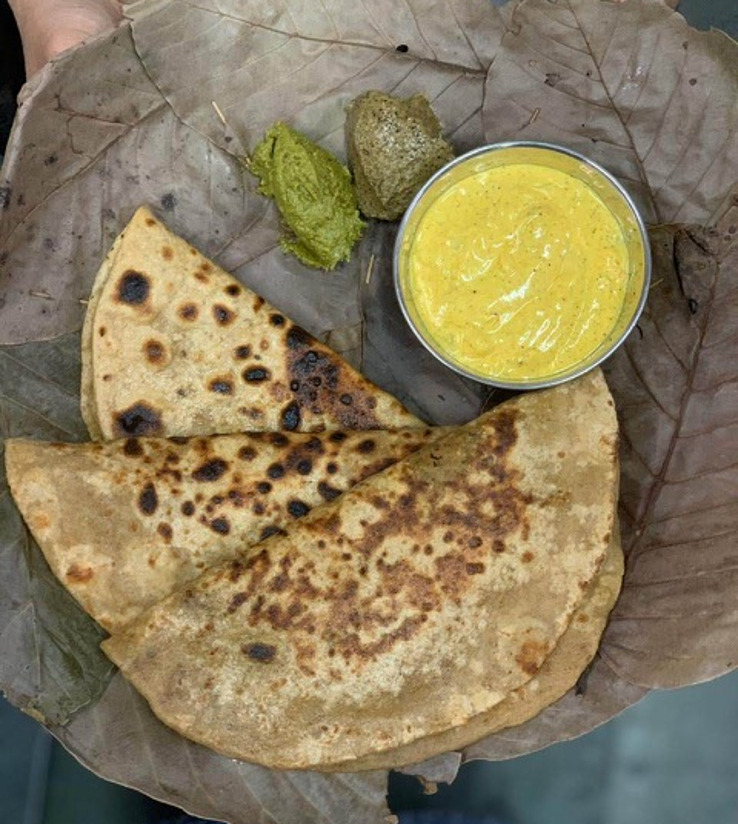 "Parathas in India are commonly made with potatoes, which is one of the four most highly consumed crops in the world. This negatively impacts the health of people and the planet. Such an eating pattern also excludes valuable sources of nutrition. While people may be getting sufficient calories, potatoes don't provide enough vitamins and minerals.
In my recipe, I swapped the potato stuffing with Horse gram lentil (F50F) and served it with a very easy hemp seed (F50F) chutney. Horse gram (F50F) is the planet's most protein-rich lentil – high in iron, calcium & protein, aids digestion and kidney related disease, relieves menstrual cramps and helps maintain levels of haemoglobin in the body. Not only is it good for us but it is also good for the planet as it is highly drought tolerant and prevents soil erosion."
Social handle: @shridulachatterjee
"
The world is changing
, and so are food habits. We need to change what we eat in order to face the challenging times ahead. Healthy ingredients swaps are a proof that eating healthy doesn't have to be a chore.
You can swap
in a dressing made with nopales (F50F) puree and Greek yoghurt in place of many other fats like mayo, sour cream & oil in a whole host of recipes. Whole grains are great, and always nutritionally preferable to more processed forms, but almighty quinoa may be even better.
It's a literal super food, gluten-free, contains all nine essential amino acids the human body needs. Use more citrus juices instead of salts in a salad. Swap croutons with dehydrated lotus root or roasted okra, which add texture & add nutritional value to the dish."
Social handle: @chefbikramdas
"When I was a young Chef, I felt anxious and overwhelmed about the idea behind a personal creation. The idea of creating came easy, but that of really moving the body, mind and soul a of human palate, made me felt afraid of rejection.
So, my solution was to dig deep into my memories of the best dishes that inspired me to actually cook. I took my family's classic dishes and added my twist! This dish is an Italian classic, the risotto, where I swapped Arborio or other high starch rice with quinoa (F50F).
The dish is a bit tricky, but the final mouthful is worth it. Here are other Future 50 Foods that mix well with the dish: Parsley stems, beet tops, walnuts as a cream, nopal (a Mexican favourite), and hemp seeds for an essential fatty acid kick."
Social handle: @aldoariasc
"My Eat for Good dish is a wild rice (F50F), caramelised onion and kale (F50F) risotto with creamy walnut butter.
For this recipe, I swapped out the traditionally used white rice for wild rice (F50F), which is really nutty and a great biodiverse ingredient along with kale (F50F).
The swapped ingredients help create a deliciously rich, nutrient dense dish with the addition of the creamy walnut butter."
Social handle: @chef_chantelle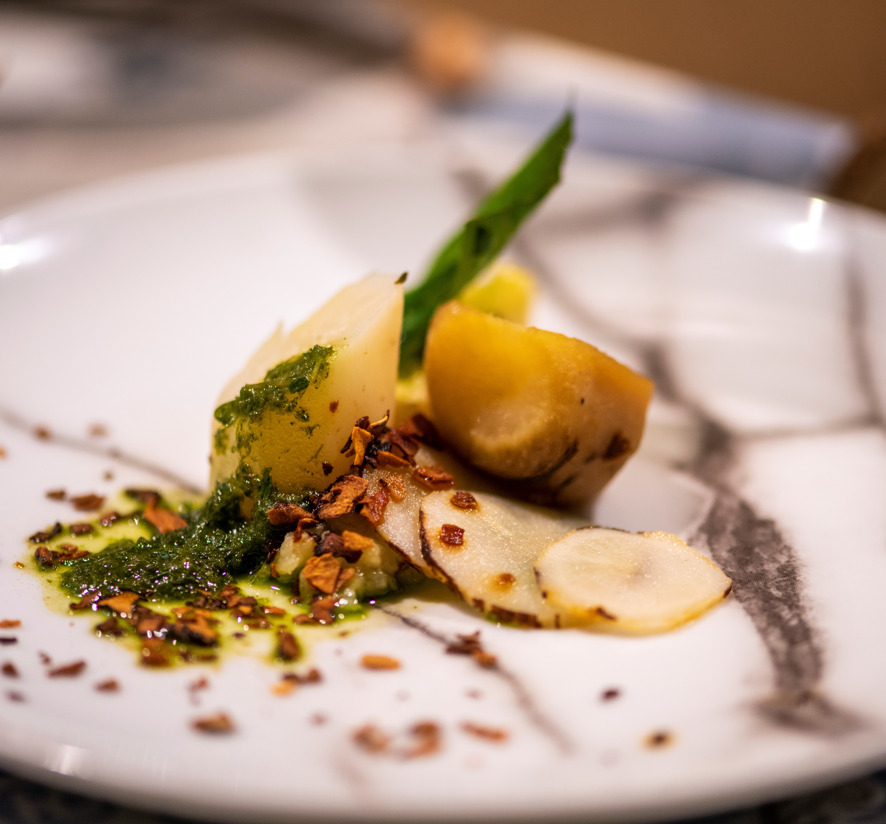 "
In the kitchen garden
at Grow HQ in Ireland, we are growing salsify, which plays a big role in our self-sufficiency! During the months of February, March and April, there is not much coming out of the ground, but salsify (F50F) is ready to be harvested in December, or – as it is happy to stay in the ground for a while – in the following months of spring.
Thereby, salsify directly helps to close what we call the 'hungry gap' besides being extremely tasty and very nutritious! This is why I have chosen to do a swap for salsify and show you how to cook it in seven ways!"
Social handle: @jeanbabtistedubois
Photo 2 Credit: Food Forever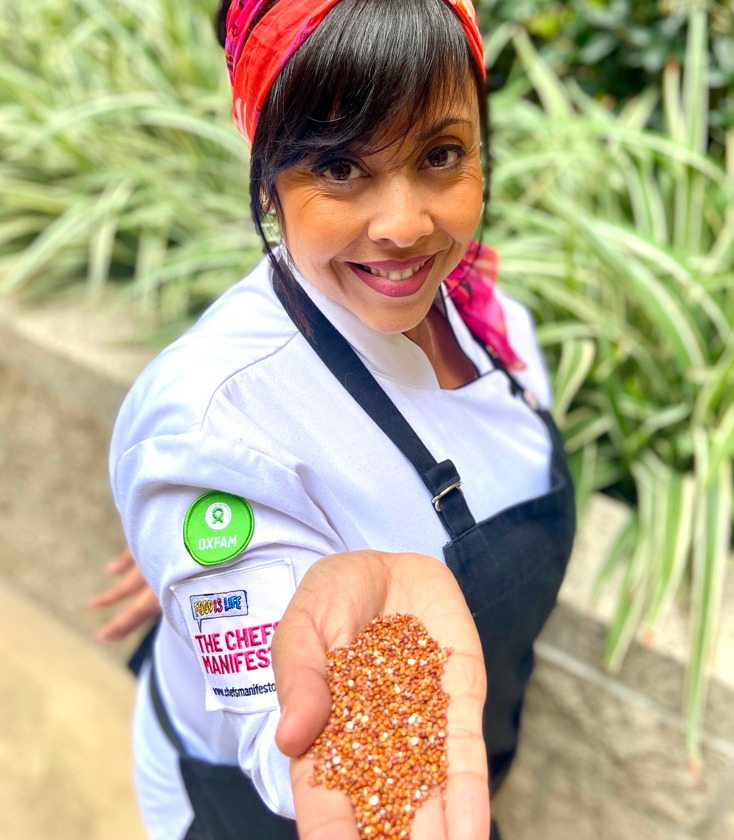 "I created a plant-based version of a family recipe by swapping white rice with quinoa (F50F) and ground beef with green lentils (F50F). Positive nutritional and environmental properties granted both of my swap ingredients a spot on the list of Future 50 Foods. Per the report, Quinoa is a "complete protein as it contains all nine of the essential amino acids".
The USDA states that 1 cup of cooked quinoa (F50F) packs 8.14 grams of protein and is rich in minerals and vitamins. It states that "lentils (F50F) have a carbon footprint 43 times lower than that of beef", a significantly lower effect on Mama Earth. Lentils (F50F) carry 56.1% of the protein content in ground beef so they're the perfect swap! There's no compromise in eating plant based. The stuffed peppers are delicious, colourful, and nourishing!"
Social handle: @chefaleschrader
"My planet friendly dish made from broccoli rabe (F50F) – Broccamole – came about from the love of Avocado Guacamole, in combination with the worry about the impact of avocadoes and effect on biodiversity.
I looked into this further and found some shocking information about monocrop avocado production. Intensive avocado production has caused biodiversity loss, extreme weather conditions, extensive soil degradation and is on the brink of causing an entirely human-made environmental disaster. A study by Carbon Footprint Ltd affirms 1kg of avocadoes has an emissions footprint of 846.36g CO2 while 1kg of Broccoli uses 6kg CO₂ and broccoli often is carbon neutral as it sequesters the same amount of CO2 into the soil as is needed to grow them."
Social handle: @justinhornechef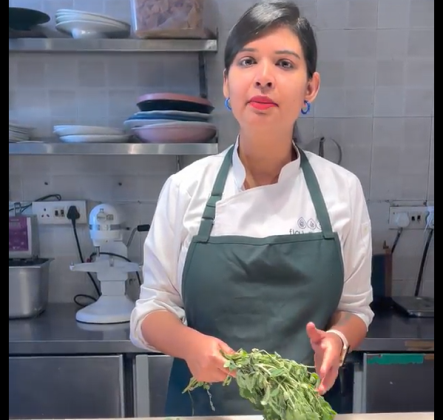 "Moringa (F50F) is high in nutritional value and has a low environmental impact. Growing in warm temperatures, it is drought resistant and a reliable source of nutritional food. Moringa (F50F) helps in the treatment of Edema, protects the liver, helps in the prevention and treatment of cancer, gastro disorders along with being super high in protein, vitamins, iron and magnesium amongst many more.
Masoor or red lentils are a super food with a really low environmental impact, whopping 43 times lower than that of meat. One bowl of masoor can fulfill the dietary requirements of an entire meal! Known to stabilise blood sugar and lower cholesterol, it nourishes teeth and bones and helps maintain a great vision. These are the reasons to swap or add this powerhouse food to your diet!"
Social handle: @pandoodle
"In my Green pea husk´s soup with golden Peruvian potato peels, I swapped flour and dairy with the cellulose of pea husk for yield and thickness.
CCori is a non-profit organisation that promotes the optimal cuisine to avoid food waste, with social programs developed to teach everyone who cooks. From a awarded fine dining restaurant, to an inmate in a prison, until a women of a soup kitchen. Because food is for all. That why we promote the using of the whole ingredient."
Social handle: @palmiroocampo
"My South African Roast butternut lentil salad with a Coronation/curry mayo dressing was inspired by Coronation Chicken. I swapped animal protein for lentils (F50F), olive oil for locally produced SA Macadamia oil, honey for SA Raw honey – also locally produced –, added walnuts, a replacement for almonds.
This dish can be completely vegan: replace the honey with syrup, swap feta for vegan cheese, yoghurt for vegan yoghurt or coconut cream, milk for almond or coconut milk and Hellmann's tangy reduced oil mayonnaise is vegan. Tip for chefs: The left-over lentils can be frozen for another dish. Keep the skin on the butternut, reduce wastage, save the seeds as these can be roasted and used in place of the walnuts or in another dish."
Social handle: @chefworthingtonmary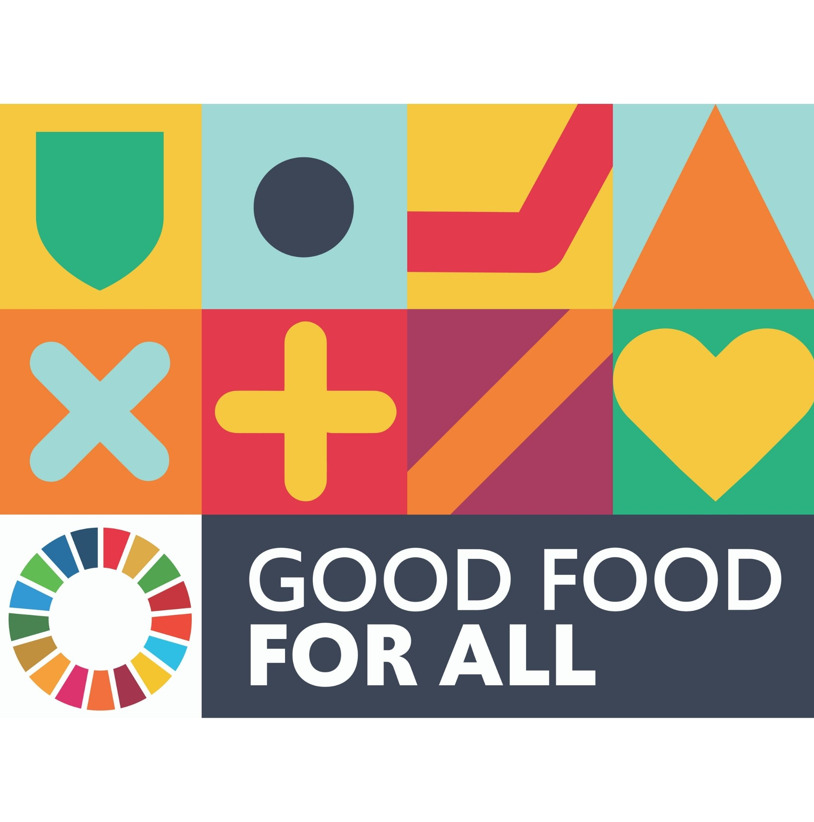 Shifting from a technical discussion to a focus on food, Good Food For All speaks to the breadth of Goal 2 – from biodiversity to malnutrition in all its forms to sustainable agriculture – and a wider food experience touching on all SDGs.
Creating a fresh new way of speaking about opportunities and challenges of agriculture, nutrition and food, Good Food For All mobilises the public and garners investment across multiple sectors. Through 8 pillars, the narrative builds bridges to other conversations: gender, climate and conflict. With 'For All' the narrative places equity at the centre of the conversation, creating an opportunity for us to accelerate SDG action.
The Future 50 Foods Report by Knorr, WWF-UK and Dr. Adam Drewnowski provides a tangible solution to decrease the environmental impact of our food while increasing the nutritional value of our meals.
It outlines food system issues and identifies 50 of the foods we should eat more of to help improve the health of people and the planet. The ambition is to make three shifts in the foods grown and eaten globally: more vegetables, plant-based in place of animal-based protein sources, and more variety in grains and cereals. The Future 50 Foods are a wide variety of vegetables, plant-based proteins, grains and cereals.
Find all the Eat For Good Swaps recipes at
Follow us on LinkedIn at Chefs' Manifesto
Follow us on Instagram @chefsmanifesto
Find out more about the Future 50 Foods at